You may be surprised to know that you don't need a lot of time or a special pan to make delicious Spanish style. Here's a terrific easy paella recipe that you can get on the table in an hour.
I always thought of paella as an exotic, difficult-to-make dish because my mother-in-law was my role model. She made paella that was so impressive I was in awe. She had the special special pan for paella and it would come out of the oven bursting with chicken, lobster, shrimp, sausage, and mussels. I have her recipe, and I promise to share it at some point in the future.
For now, life feels pretty hectic, so I am happy to announce that paella doesn't have to be complicated or time-consuming, and you don't need a special pan.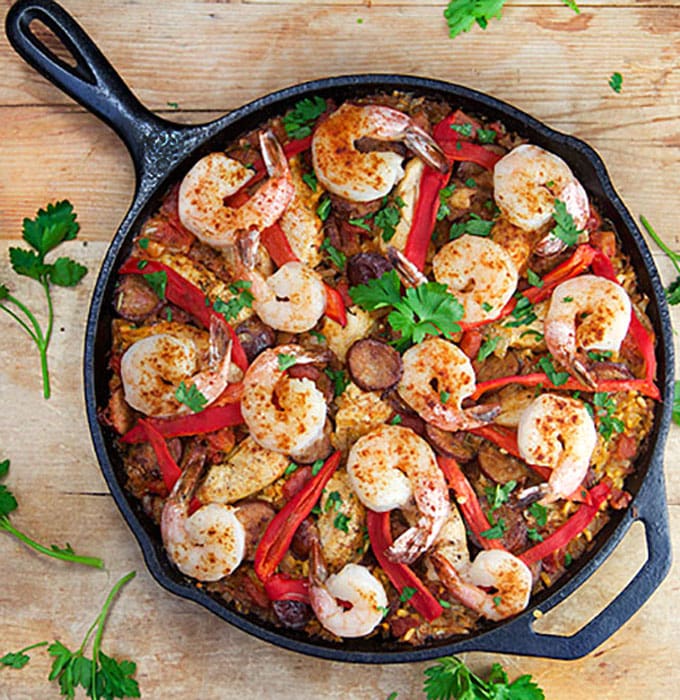 SPANISH PAELLA FUN FACTS
In Spain, where paella originated, it is a common weeknight dinner.
Paella isn't defined by the seafood and meats it contains. In fact when it was created in the mid nineteenth century – by workers in the fields of Valencia, Spain – it contained whatever local ingredients were available – usually snails and rabbit.
Saffron-infused short-grain rice and aromatic vegetables are what make paella paella. It's up to the chef to decide which types of meat, poultry, seafood or vegetables to include.
Paella was originally cooked over an open fire, imparting a nice smokiness to the dish. Smoked chorizo sausage and woody, smoky spices like paprika and rosemary make up for the lack of a wood fire.