2. FileApp
FileApp is another very good file manager app for iPhones, or iPads. The app comes with a great interface, and organizes files automatically by type, date, and even displays the recent files that you have accessed on the app. You can even create new images, audio recordings, or text files directly from within the app. Not just that, FileApp will also let you view images, play back media files, and read PDFs, directly inside the app.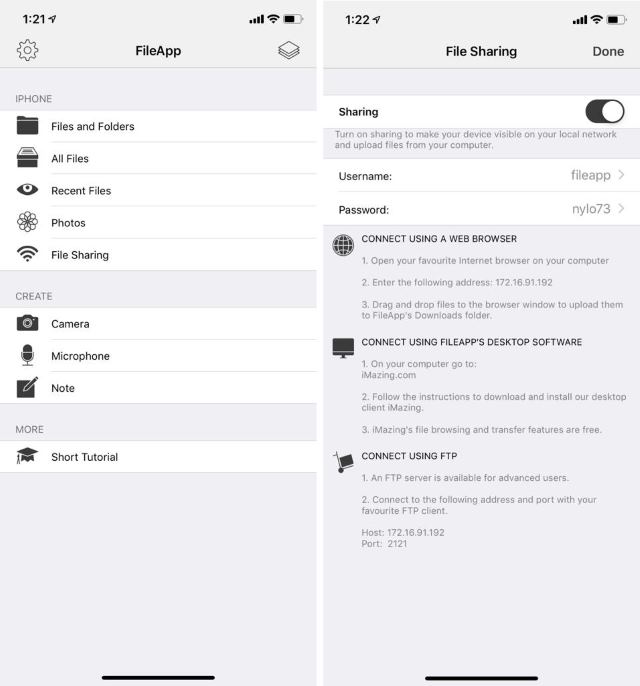 FileApp can also be used to transfer files from your iPhone to a PC, or Mac. The app offers various options to do this, including transfer over HTTP, FTP, and using the FileApp desktop app. Sharing is turned off, by default, but you can turn it on, and even set a custom username, and password, to keep your files protected from unauthorized access. If you want, you can enable passcode protection from the app's settings, which will require a passcode to unlock access to the file, and by extension, all of your files.
3. File Hub
File Hub is a great file manager for iPhones and iPads. The app offers a plethora of features, such as the ability to create folders to organize files, create blank files, or even create a new file from the clipboard. You can even import files directly from iCloud Drive, as well. The sorting options in the app really make it stand out, and you can sort files by name, kind, etc. The app will also allow you to share files from your iPhone to a Mac or PC via WiFi transfer, or Bluetooth transfer.
In the settings page, you can enable secure WiFi transfer, to protect your phone from unauthorized access. You can also enable file extensions, if you want, and change the slideshow settings for photos. The app also supports a passcode lock to prevent access without a passcode. Unfortunately, the app doesn't support Touch ID, which is something I hope the developer adds soon. All in all, the app is definitely a good option for managing files on an iPhone, or iPad; and to share files between an iPhone, and a Mac or PC.